Vancouver Prenatal Massage 
RMT Pregnancy Massage – Vancouver – Prenatal Massage Therapy
Downtown Vancouver Pregnancy Massage 

Everest Therapeutics has several registered massage therapists who are specially trained in pre and postnatal massage. We have all the correct support cushions and pillows needed to provide a comfortable and proper pre and post pregnancy massage. Our downtown Vancouver RMT's ensure your comfort and safety is their first priority. Therefore, we recommend that the best time for the expectant mother to have a pregnancy massage is after the first trimester. Also, our pregnancy massage therapists don't use pregnancy tables that have a hole cut out with a fabric hammock for supporting your belly. These tables seem like the answer to providing prenatal massage, however they can have serious side effects, including undo strain on the uterine and other ligaments of your abdomen. Your pregnancy massage therapist will have you lay on your side on a flat comfy massage table with a body cushion and pillow to provide all the necessary support.
A pregnancy massage session begins with a consultation with an experienced prenatal massage therapist. During the pregnancy massage treatment, the RMT will work on all of the areas that have been giving you pain, but they will avoid working for too long on the areas near the heel and the ankle, because it is known that these areas are thought to be connected to the uterus and the vagina.
---
Pregnancy Massage – Vancouver
prenatal & postnatal RMT's
604-633-9593
MZ1- 970 Burrard St. Vancouver
(mezzanine – Electra Building)
7 days a week 8 am to 8 pm
535 Hornby St. #400 Vancouver
(4th floor YWCA Building)
Weekdays 6 am to 10 pm
 
Two convenient downtown Vancouver locations
---
For Pre and Post-Natal  Massage Therapy, we recommend the following practitioners:
Adam Slim, RMT
Angela Vanderwal, RMT
Cindy Thomas, RMT
Erika McKaeff, RMT, SDTT
Heidi Joy Brown, RMT
Irina Mackay, RMT
Irina Oulianova, RMT
Janet Lee, RMT, BA, BEd
Kevin Nevins, RMT
Kyla McCaig, RMT
Martina Griffiths, RMT
Mike Dixon, RMT
Melissa Johanson, RMT
Riche Klue, RMT
Tanya Bayda, RMT, SDTT
Taylor McAdam, RMT
Mothers-to-be begin planning for a successful and healthy pregnancy from the very moment they find out they are expecting. The arrival of a new baby is a very exciting time, but it is also a physically and emotionally taxing time for expectant mothers. During the eventful nine months of pregnancy, an expectant mother needs to ensure that she adequately receives a proper balance of nutrition, rest, and exercise. Lacking in any one of these areas can create harmful effects for both mother and baby. Unfortunately, many common discomforts of pregnancy can prevent a mother from meeting the body's changing needs.
Prenatal Massage Therapy Can Really Make A Positive Difference
Pregnancy massage, or prenatal massage, are specific terms used to describe a therapeutic massage treatment performed by a registered massage therapist, to help alleviate the troublesome symptoms and risks associated with pregnancy, such as:
Sciatica
Headaches
Low back pain
Swelling in the extremities
Muscle tension
Sleep disturbances
How Prenatal Massage Can Help
Studies from the University of Miami, School of Medicine, show that just 20 minutes of pregnancy massage twice a week for five weeks:
Diminishes stress hormones in the body
Helps regulate mood swings
Reduces anxiety and encourages relaxation
Helps to relieve stress on the lower back, pelvis, and ankles
Improves blood and lymph circulation
Reduces swelling and improves baby's oxygen supply
Relaxes muscle knots that cause cramping, tightening, and stiffness
Improves muscle and skin tone
Assists to promote better sleep patterns
Studies also report that expectant moms who receive regular pregnancy massages may:
Experience lower rates of premature birth
Have fewer obstetrical complications
Birth babies with fewer postnatal complications
During pregnancy, working with one our downtown Vancouver pregnancy massage therapists can help towards ensuring the healthiest and happiest pregnancy possible. The purpose of prenatal massage is to support a healthy, happy mom, and an uncomplicated labour, delivery and recovery.
Post-Natal Massage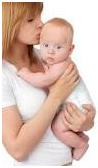 In addition to helping mothers experience a healthy and relaxing pregnancy, massage can also help post partum, as it's particularly beneficial to returning to an active lifestyle. Massage therapy can help ease the transition from pregnancy to motherhood by offering both physical and emotional boosts. Physically, massage therapy can help to recondition muscles and connective tissues. It is also useful in eliminating excess fluid retention, and improving skin's elasticity in overstretched areas.
Emotionally, massage therapy is an excellent source of stress relief for new moms. Massage therapy provides relaxation while relieving aching muscles in the shoulders and neck.
Book Your Downtown Vancouver Prenatal Massage Appointment Today
At Everest Therapeutics, we offer the best in therapeutic prenatal and postnatal massage in Vancouver. Contact one of our registered massage therapists today to discover for yourself, the bliss and benefits of pregnancy massage.
---
Pregnancy Massage – Vancouver
prenatal & postnatal RMT's
604-633-9593
MZ1- 970 Burrard St. Vancouver
(mezzanine – Electra Building)
7 days a week 8 am to 8 pm
535 Hornby St. #400 Vancouver
(4th floor YWCA Building)
Weekdays 6 am to 10 pm
 
Two convenient downtown Vancouver locations