Sue Caithness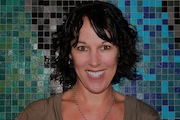 *Sue is an RMT and a CST (Craniosacral Therapist). Extended Medical claims for CST treatments with Sue may be claimed under her Registered Massage Therapy License.
Sue was born and raised in Wellington, New Zealand, and came to Canada in 1990 to play softball at the national club level. It was as an athlete that Sue was first introduced to massage therapy — she was so astounded by the profound effects that massage therapy had on her performance, overall body function and general health that she decided to become an RMT. She has now been practicing massage therapy for over 12 years.
Since her retirement from competitive sports, Sue has continued to be involved in fitness and well-being, both of which play an integral part in her life. In 2011, Sue completed a comprehensive one year diploma in Cranial Sacral Therapy at Langara College, certifying her as a Cranial Sacral Therapist. Since then she has completed, and continues to study, Upledgers Institute Craniosacral Therapy courses. It is through her most recent studies that Sue has found she is able to work to a much deeper and more profound level within the body, helping clients achieve balance physically, emotionally, mentally and spiritually.
Advanced studies in other massage therapy modalities have also given Sue comprehensive knowledge and assessment skills to facilitate and assist her clients in self-healing. It is Sue's ultimate goal to assist her clients achieve and maintain optimal health and pain free body function through assessment, treatment plans and treatment and education in self-care.
At your next massage appointment with Sue, ask how Cranial Sacral Therapy can help you and how she might incorporate it into your treatments.
Education and Training
1998 West Coast College of Massage Therapy
2011 Langara College – Cranial Sacral Therapy Diploma
2011 Upledgers Institute – Cranial Sacral Therapy Level 1
2012 Updedgers Institue – Cranial Sacral Therapy Level 2
2014 Upledgers Somato Emotional Release 2
Techniques & Treatments
Myofascial release & unwinding
Trigger point therapy
Neuromuscular therapy
Joint play mobilization
Passive & Active Stretching
Cranial Sacral Therapy
Swedish Massage
Pricing
Initial appointments are 60 minutes: $120
Subsequent appointments are 60 minutes: $125
Initial 70 Minutes Cranial Sacral Therapy: $135
Subsequent 70 Minutes Cranial Sacral Therapy: $135
Subsequent 60 Minutes Cranial Sacral Therapy: $125