Cindy Thomas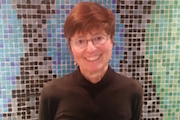 Cindy has recently left a rewarding practice in Georgian Bay Ontario, to move to the West Coast. Besides wanting to avoid the harsh winters in the East, she is excited about the active healthy lifestyle in Vancouver.
She brings extensive experience and knowledge from her holistic background as a Massage Therapist of over 30 years, Yoga Instructor and Rubenfeld Synergist (a body centered approach to psychotherapy).
Cindy is a well-rounded practitioner who likes to treat all ages using a wide range of techniques including Myofascial Trigger Point Therapy, Deep Tissue Massage, Swedish Massage, Energy Techniques, Trager and home care Yoga Tune Up self-massage ball routines.
As a Yoga Instructor she believes in the power of breath and relaxation to facilitate the healing process. Her treatments focus on a balance between therapeutic massage and relaxation to rest and restore the nervous system.
Cindy likes to educate her clients in self-care, helping them to be an active participant in their healing process and continued recovery.
Education & Training
2014 Yoga Tune Up Therapy Ball Practitioner
2012 Indian Head Massage
2002 Rubenfeld Synergy Method
1992 Upledger Institute Level 2
1990 Upledger Institute Level 1
1987 NISA, Neuromuscular Integration & Structural Alignment
1986 Trager Practitioner
1984 Canadian College of Massage and Hydrotherapy
1981 Bachelor of Arts degree: Universite du Quebec a Trois- Rivieres
Experience
Registered Massage Therapist since 1984
28 year successful Massage Therapy practice in Georgian Bay, Ontario
Served on the board of the Ontario Massage Therapist Association(OMTA)
Clinical Supervisor at Kikkawa College for the Student Public Clinic
Taught Relaxation Massage at Georgian College
Pricing
Initial appointments are 60 minutes: $120
Subsequent appointments are 60 minutes: $120
Techniques & Treatments
Deep Tissue Massage
Trigger Point Therapy
Trager
Anxiety release, PTSD& trauma
Therapeutic and Yoga based exercises
Relaxation & Breathing techniques