Irina Oulianova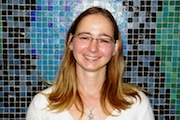 Irina sees each of her clients as a completely unique case. She uses the knowledge she gained through her education and experience to assess their concerns and come up with the best treatment, suited to their specific needs and goals.
Dedicated to the welfare of her clients, Irina has also entered an osteopathic program and is currently attending her third year of study. Because osteopathy training places a large emphasis on the knowledge of anatomy and the interrelationships of the structures of the body and their physiology, Irina is able to treat the cause of the symptoms rather than simply relieve discomfort.
Irina has experience working with overuse injuries, postural imbalance, pregnancy related issues, MVA, headaches, negative impact of stress and tension in the body, TMJ, insomnia as well as preventative maintenance. Women's health is of particular interest to her. She has successfully treated dysmenorrhea, pregnancy related aches and pains, breast tissue preventative for mastectomy and post-operative scar tissue care. Irina also has experience working in a spa environment. She often employs relaxation techniques to induce in her clients an optimal state of well-being.
Irina works with clients of all ages, including children.
Please visit Irina's website for more information: www.irinaormt.com
Education & Training:
2016 Current studies: 3rd year of Osteopathy Practitioner Program at Canadian College of Osteopathy
2010 Registered Massage Therapy program, Utopia Academy
Pricing:
Initial appointments are 60 minutes: $120
Subsequent appointments: 
60 Minutes: $120
45 Minutes: $100
75 Minutes: $145
90 Minutes: $170
120 Minutes: $220
Techniques & Treatments
Deep tissue techniques
Ligamentous Articular Strain Technique (L.A.S.T.)
Osteopathic assessment & techniques
Pre and Post Natal care
Muscle Energy Techniques
Cranial Sacral Therapy
Myofascial Release
Joint Mobilization
TMJ treatment
Swedish massage
Testimonials
Irina Oulianova
– Reviewed by
Patrick G.
"…Irina significantly allayed my discomfort"
If you are looking for an outstanding RMT, look no further than Irina Oulianova. I have never experienced an RMT as thorough, capable and educated as Irina. I was astounded. It became very clear to me after 15 minutes that all the massages I had had before this one amounted to my back being rubbed by comparison. Irina takes an anatomical approach to her work. I spoke with her during my treatment and she explained the physiology of my discomfort and what physical techniques were most effective to alleviate them. Her method incorporated attention to bone, tissue and muscle structure. The methodical precision with which she worked the areas of my back that had been causing me pain were incredibly impressive. I felt like I was being attended to by a true medical professional. Most of all, Irina significantly allayed my discomfort, and two days later I continue to enjoy the positive effect of her treatment. Go to this massage therapist. I personally will never consider anyone different. Irina is head and shoulders above any practitioner I have gone to. And I have had the privilege to go to a few exceptional ones.
Rating:
Irina Oulianova
– Reviewed by
Deena R.
"I'm so glad I've found her"
Irina is superlative at what she does: she goes well beyond what I'd expect in the effectiveness of her techniques and in her overall knowledge of the body. I'm so glad I've found her.
Rating: