Mark Bentz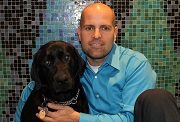 During the third year of studying Human Kinetics at the University of British Columbia, Mark was introduced to massage therapy. Having only two percent of his vision left due to a progressive retinal degenerative condition, he felt being a Massage Therapist would allow him to provide the best service to society.
Having weakness in one sense allows the brain to provide more power to other senses, for example touch and intuition. This is a great advantage that allows Mark to function at a heightened state of awareness when treating the body. Combining this with his knowledge of human movement patterns makes for a unique and powerful massage therapy experience.
Mark is joined by his seeing-eye dog Mindy. Mindy is a Black Labrador/Retriever. Clients love to see the 90 pound bundle of love and joy when they come into the clinic. She provides all the dog therapy you can handle, and if you do not like dogs, Mark suggests booking with one of the other 20+ great RMTs at the clinic.
**Currently Mark's focus is on building the therapeutic community at Everest Therapeutics and the Electra Health Floor, therefore, at this time he does not have a set massage therapy schedule. However, if you'd really like to see Mark for a treatment, please give Reception a call and they will set up a session for you.
Education & Training
1995 West Coast College of Massage Therapy (WCCMT)
1994 University of British Columbia – 3 years Human Kinetics, transferred to WCCMT
Pricing
Initial appointments are 60 minutes: $120
Subsequent appointments are 60 minutes: $150
Experience
Practicing RMT since 1995
Owns and operates the Electra Health Floor, since 2007
Has been politically active with our Provincial, National and International massage therapy organizations.
Techniques & Treatments
Mark works to release the primary restrictions in the body. When these are released, the secondary symptoms have the opportunity to work through the system. A typical treatment begins with an assessment of the motion of your lumbar spine and sacroiliac joints. Once these movements have been restored he will look to stretch the fascial lines in your body. This will release chronic restricted movement patterns and improve your overall mobility. Deep tissue massage is then applied to restricted areas.