Taylor McAdam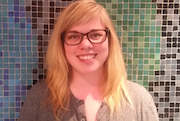 Taylor graduated from the 3000 hour program at the West Coast College of Massage Therapy in 2012. For two years she had a practice in Victoria BC, treating a wide variety of systemic, orthopaedic, and muscular disorders. She has spent the last year working at fishing lodges and ski hills. 
She has a particular interest in treating post surgical scar tissue, MVA injuries, and chronic pain caused by muscular imbalances or joint dysfunction. 
With an empathetic approach to treatments, she uses a combination of relaxation and therapeutic techniques to allow a gentle, but effective progression towards the goal of recovery. 
Taylor has worked with clients of all ages and at different stages of health, and believes in building a strong therapeutic relationship with each person based on their individual needs and preferences. 
Education & Training
2010 – 2012 West Coast College of Massage Therapy 
2012 Dr. Vodder Manual Lymph Drainage Level 1 Certificate  
2014 Fascia Structure & Function of The Should Girdle 
2016 Integrated Assessment & Treatment of the Cervical Spine 
Pricing
Initial appointments are 60 minutes: $120
Subsequent appointments are 60 minutes: $115
Initial and Subsequent 45 Minutes Massage Therapy: $95
Techniques & Treatments
Myofascial Release 
Trigger Point Therapy
Deep Tissue Treatment
Swedish Massage
Muscle Energy Technique 
Acute/Chronic Pain Treatment
Stress Management
Swedish Massage