Martina Griffiths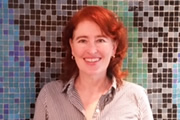 Martina Griffiths is a Registered Massage Therapist with over 25 years experience in helping people restore and maintain optimal health and pain-free function of the body.
" I come from a competitive athletic background in swimming and water polo so I understand personally and professionally the stresses and mechanics that sports, exercise and daily life can have on the body"
Her practice seamlessly integrates a variety of massage therapy techniques including deep tissue, myofascial Trigger Point Release, sports massage, Swedish, gentle and relaxation techniques, pre-post natal care, Craniosacral Manipulation, and Ortho Bionomy, to name a few. 
Martina has proven success in relieving chronic, acute and degenerative pathologies for a diverse client base including office workers, Olympic & professional athletes, and amateur & professional dancers requiring treatment from car accidents, work related injuries, sleep disorders, neck and back pain, insomnia, headaches, postural habits, PTS symptoms, and sport related injuries or strain.
Martina believes; "Any investment in your body is an investment in your future."
History, Education and Training
September, 2012:  Ortho Bionomy Phase Four with Marie Long
October – November, 2000: Arthrokinetic Therapy with Mike Dixon and Steve Anderson
October – December 1998: Craniosacral Manipulation with Arnie Lade
September, 1997 – Massage Therapist Instructor, Vancouver Community College and Langara College, Vancouver, British Columbia, Canada. 

Developed and taught Massage Therapy Level I and Level II continuing education courses.

January 1992 – September 1995: Co-owner Deserving Thyme Inc

The 1st essential oil and aromatherapy company in Vancouver, BC.

September 1985 – June 1987: West Coast College of Massage Therapy, Vancouver, B.C.