Martina Griffiths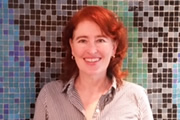 Martina Griffiths is a Registered Massage Therapist with over 25 years experience in helping people restore and maintain optimal health and pain-free function of the body.
" I come from a competitive athletic background in swimming and water polo so I understand personally and professionally the stresses and mechanics that sports, exercise and daily life can have on the body"
Her practice seamlessly integrates a variety of massage therapy techniques including deep tissue, myofascial Trigger Point Release, sports massage, Swedish, gentle and relaxation techniques, pre-post natal care, Craniosacral Manipulation, Ortho Bionomy, and Muscle Energy Technique (MET) to name a few. 
Martina has proven success in relieving chronic, acute and degenerative pathologies for a diverse client base including office workers, Olympic & professional athletes, and amateur & professional dancers requiring treatment from car accidents, work related injuries, sleep disorders, neck and back pain, insomnia, headaches, postural habits, PTS symptoms, and sport related injuries or strain.
Martina believes; "Any investment in your body is an investment in your future."
Please note that Martina is allergic to synthetic scents so please no perfumes or scented body products on treatment day.
History, Education and Training
February 2017: Muscle Energy Technique (MET) for the Ribs with Ann Sleeper
October 2016: Muscle Energy Technique (MET) for the Cervical, Thoracic and Lumbar Spine with Ann Sleeper
September, 2012:  Ortho Bionomy Phase Four with Marie Long
October – November, 2000: Arthrokinetic Therapy with Mike Dixon and Steve Anderson
October – December 1998: Craniosacral Manipulation with Arnie Lade
September, 1997 – Massage Therapist Instructor, Vancouver Community College and Langara College, Vancouver, British Columbia, Canada. 

Developed and taught Massage Therapy Level I and Level II continuing education courses.

January 1992 – September 1995: Co-owner Deserving Thyme Inc

The 1st essential oil and aromatherapy company in Vancouver, BC.

September 1985 – June 1987: West Coast College of Massage Therapy, Vancouver, B.C.
Pricing
Initial appointments are 60 minutes: $120
Subsequent appointments are 60 minutes: $120
Testimonials
Martina Griffiths – "I wish I'd known about her sooner." "Martina Griffiths, RMT Massage Therapist . . . [is] intelligent and very talented. I feel so thankful to have received benefit from [her] knowledge and skill. Martina used multiple disciplines of massage therapy to take away pain and help give me back my mobility and ability to move effortlessly and sleep better without waking up in the morning from tension and hurt. She is insightful. I wish I'd known about her sooner. The ability and wisdom she has is so more advanced than what we have in the States. 
Rating: 5