Massage Therapy For Babies – Downtown Vancouver
The Soothing Benefits of Baby Massage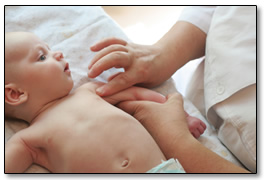 Just as adults can enjoy massage, infants and children can benefit from the powerful, calming effects of gentle touch too. Baby massage has been shown to reduce colic , help soothe fussy babies and provide a deeper bond and better communication with caregivers as the infant adapts to touch. But that's not all, proper infant massage can also help improve a baby's health by stimulating the immune, circulatory and digestive systems. And, since infants grow rather quickly, it is optimal to consult a registered massage therapist to learn the proper pressure points on an infant's body and how to properly administer gentle massage strokes.
Everest Therapeutics offers baby massage sessions and help parents familiarize themselves with this technique.
---
Downtown Vancouver Baby Massage Therapy
604-633-9593
MZ1- 970 Burrard St. Vancouver
(mezzanine – Electra Building)
7 days a week 8 am to 8 pm
535 Hornby St. #400 Vancouver
(4th floor YWCA Building)
Weekdays 6 am to 10 pm
---
Baby Massage Techniques
Baby massage is always gentle and delicate, to avoid any pain or discomfort. Great care is also taken to ensure that the baby is comfortable, relaxed and that his or her body is well supported.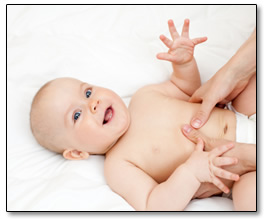 Baby music is used throughout the massage session, along with a natural oil. The oil is gently warmed and is used to massage first the feet, legs and hips. The massage then moves to the chest, shoulders and arms. The stomach is massaged gently in a clockwise circular motion to help digestion and breathing. The face and neck are then massaged, beginning in the center of the face and moving outwards. Finally, the baby is moved onto his stomach for a back massage, using long strokes along the spine down to the feet.
Once the massage is done, slowly dressing the baby and using a gentle tone of voice and soothing gestures will extend the feeling of relaxation for both the baby and the parent. The massage sequence is often done before the baby's bedtime, sometimes after a warm bath, in order to improve the quality of a babies sleep .
The Benefits of Baby Massage
The benefits of Baby Massage can be grouped into the following main categories:
Relaxation
Relief
Stimulation
Interaction
RELAXATION:  There is much going on in a new baby's life, they have more to adjust to than they will ever have again. Massage can help ease a baby's muscles into relaxation, and when practiced on a regular basis, teaches the baby what relaxation is and how to go about it.
RELIEF from Colic pain: Colic can be a nightmare. Colic occurs in 20% of babies. If you know your baby has this condition you will be pleased to know that massage therapy can treat colic.
There are massage techniques that can ease the pain and discomfort of spasm or gas. They can help to disperse gas, ease muscle spasm, tone the digestive system and help it to work efficiently. It is not a miracle cure, and can take a few days to ease, but it can be more effective than a pharmaceutical remedy.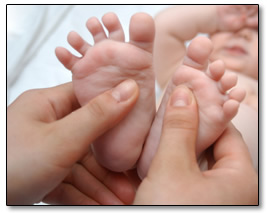 STIMULATION is incompatible with relaxation, but massage can do both, all depending on the mood, setting and what your aims are. However baby massage does not just stimulate muscles, it can stimulate other systems of the body as well. For example, it can help aid digestion and so ease the symptoms of constipation. It also stimulates blood flow – when you massage someone you will feel the area you are working on become warmer. Some babies have poor circulation and have cold hands and feet – if this is the case for your baby, massaging for just 5 minutes will make a difference that you can notice.
INTERACTION: Baby massage encourages a good relationship between parent and baby. It gives them a place and a time to be together, free from the worries and pressures of everyday life. Baby massage instructors teach baby massage – once the parent is confident to massage without thinking about what move comes next or if they are doing the stroke correctly – then comes a time of real communication between mother and baby.
Can your Baby Benefit from Massage?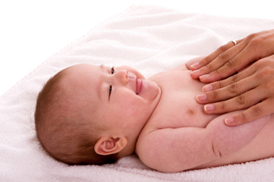 While any baby can benefit from the gentle stimulation and calming effects of massage, seeing a registered massage therapist that provides baby massage is essential to help with your colic baby. The RMT knows the proper pressure points and strokes to help relieve pain, gas and acid reflux, which are symptoms of colic.
Everest Therapeutics offers baby massage treatments and teach baby massage techniques to parents and caretakers. 
---
 Melissa Johanson, RMT provides  baby massage 
Vancouver 604-633-9593
or book an appointment online
Vancouver Baby Massage Therapy
604-633-9593
MZ1- 970 Burrard St. Vancouver
(mezzanine – Electra Building)
7 days a week 8 am to 8 pm
535 Hornby St. #400 Vancouver
(4th floor YWCA Building)
Weekdays 6 am to 10 pm