Tresha Ramsahai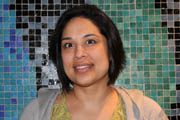 Tresha's approach to treatment emphasizes the normalization of body structures and functions to enable the body to take control and heal itself.
Applying herself to supplemental courses and literature on fascia became the defining moments leading her towards the Osteopathic program. Between diploma programs, Tresha developed a profound love for fascia — the connective tissue of the body. She missed the First International Fascia Research Congress held in Boston at Harvard University, but quickly got her hands on the published research document. She was thrilled that the scientific research community and Osteopaths of the world have finally come together to begin proving what has been common knowledge to many practitioners for a long time.
She has strong beliefs in Integral Medicine; in defining the differences between disease, illness, and injury; and in the importance of identifying with the physical, vital, and mental aspects of well-being. She would love to help you or help direct you towards a health practitioner who can.
Please be advised all treatments with Tresha will be billed using Tresha's RMT registration number as she is not registered with the provincial or national Osteopathic Association.
Education and Training
2013 Standard First Aid, CPR & AED Level C
2012 Southern Ontario College of Osteopathy – Diploma in Osteopathy Manipulative Practice
2009 Structural Integration Certification
2009 Low Intensity Laser Therapy Certification
2008 Soft Tissue Release Certification
2007 Elmcrest College of Applied Health Sciences – Massage Therapy Diploma
Experience
2008 – 2012 Successful Massage Therapy practice at Richmond Hill Natural Therapies, Ontario
2009 Second International Fascia Research Congress, Vrije Universiteit; Amsterdam, Netherlands
Techniques & Treatments
Myofascial Release
Soft Tissue Release – Active Myofascial Release
Advanced Myofascial Release in Structural Integration
Muscle Energy Techniques
Lymphatic Manipulative Techniques
Ligamentous Articular Strain and Balanced Ligamentous Tension
Counterstrain
Techniques of Still
Facilitated Positional Release
Oscillatory Techniques – Harmonic and Rhythmic
Cranial Osteopathy
Visceral Osteopathy
Assessment and Treatment of the Spine and Pelvis
Assessment and Treatment of the Central and Peripheral Nervous Systems
Bioenergy
Muscle Imbalance Exercise Principles and Prescription
Pricing
Initial appointments are 55 minutes: $120
Subsequent appointments are 55 minutes: $120
55 Minutes Osteopathic Treatment Session: $120