Larissa Walrond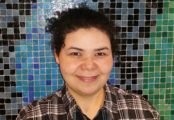 Larissa has been a massage therapist since 2008, since beginning her journey as a healer she has adapted her skills to fit each client's personal needs. Larissa loves to create space where a person can relax and let go of stress and tension. Each visit with her is a time for you to shed the pressure of your day to day life. Treatments with Larissa mean being given the opportunity not only to bring your body into balance but to also reconnect yourself to the experience of being human! Every symptom has its treatment and Larissa believes that in time, they can get sorted out. Her approach to massage looks at the person as a whole. Not just your daily activities, but how you go about them, why and how it effects your body and your mind.  Larissa believes in the science behind Massage therapy but also uses her intuition. By 'listening' to your body thru palpation and visual assessment she can usually find the trouble spots causing the pain in your primary complaint. From top level athletes to those working at desks or on the factory and warehouse floor, Larissa has seen them all, she is fascinated by what is troubling you each and everyday.  
When not at the clinic Larissa spends time with her shetland sheepdog "Storm" and has a myriad of creative pastimes including knitting, painting and creative writing.
Education and Training
Nova Scotia College of Art and Design Graduated 2005 Bachelor of Fine Arts
Malaspina University College Graduated 2001

Diploma of Visual Arts

West coast College of Massage grad 2007
Intro to Osteopathy, Anne Sleeper, 12/4/09
Human gross Anatomy 7 module CD-rom series, Schweitzer's educational services 26/10/12
Post surgical recovery
stress management thru Visualization
First Aid/CPR 'C' for health care professionals, St Johns Ambulance 27/10/13
Fascia: Its Structure and Function: The pelvic Girdle, Mark Finch 26/10/14
One day wonders: Female pelvis Female issues, Heather Gittens 21/2/16
One day wonders: Digestion, Heather Gittens, 6/3/16
Save your body a Self Care workshop for RMT's, Beth Sampson, 10/4/16
Experience
8 years massage therapy practice in British Columbia. Various locations.
Techniques & Treatments
Swedish techniques
Myofascial Release
Deep tissue
Pre/Post natal
Repetitive Strain Injuries
Post surgical recovery
stress management thru Visualization
Relaxation
Pricing
Testimonials
Larissa Walrond 
– Reviewed by Kevan O'Brien
"…more relaxed and stress free body!"
Larissa is great and informative, really helps you identify and work on the most important stuff. Didn't know I should have a different posture at work and how strenuous a desk position can be until she showed me. On my way to a more relaxed and stress free body!
Rating:
Larissa Walrond 
– Reviewed by Belinda Murbach
"…comfortable…. in her capable hands!"
Larissa has amazing energy, she is so gentle yet manages to root out my worst knots. I always feel revived and relaxed after a treatment with her. I feel so comfortable in my body knowing I'm  in her capable hands!
Rating:
Larissa Walrond 
– Reviewed by Katy Phillips
"…she has Magic hands!!"
I see Larissa for my neck and shoulder pain for over 6 years now. I had a repetitive strain injury in my left shoulder from pumping syrup while working at starbucks. Combined with physiotherapy Massages with Larissa we were able to keep my pain to a minimum and stop my injury from needing surgery. Now that I work at a desk everyday I see her as often as I can to stop the pain and tension that accumulates in my body from my head forward posture and stress. She somehow always manages to find the exact spots that have been bothering the most, she has Magic hands!!
Rating:



Larissa Walrond 

– Reviewed by 
Janaina Campos
"…took the time to get to know me…"
I would say that Larissa is extremely professional, friendly and knowledgeable. She took the time to get to know me and make me feel comfortable. I have always been very particular in choosing an rmt and I chose her because of her skills. She was able to address my needs very effectively. She is an amazing rmt and I would highly recommend her services.
Rating:



Larissa Walrond 

– Reviewed by 
Jenny Poon
"…is gentle but with strength."
Larissa is gentle but with strength. Always cater for my needs and concerns. I always feel comfortable in her treatment room, and she loosens up my really tight muscles.
Rating:
Larissa Walrond
Clients highly recommend Larissa.5 out of 5
based on 5 reviews