Kyla McCaig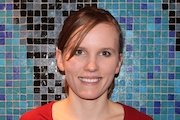 Kyla decided at a young age that she wanted to be a massage therapist. She always knew that she would be involved in health care, helping people. Being visually impaired since birth, working with her hands seemed natural to her. Kyla graduated from the West Coast College of Massage Therapy Victoria in late 2009. Since then she has practiced in a variety of settings in both Victoria and Parksville, where she grew up. This has allowed her to work with a variety of people from all walks of life.
Kyla believes that the body has the ability to heal itself. She strives as a massage therapist to work with her clients' bodies, employing a variety of techniques to help promote healing and reduce stress. In order to expand her knowledge of the human body and add to her practice, Kyla is currently finishing her first year of her diploma of osteopathic manual practice.
Her areas of focus include pregnancy, women's health, stress management, repetitive strain injuries, athletes, injury prevention, and those just starting out on their fitness journey. Kyla loves sharing her passion for health and fitness with her patients. She is an avid cross-fitter, this has given her a greater appreciation for how the body moves so that she can better understand sports injuries and how to promote functional movement patterns.
As she is visually impaired, Kyla does have her guide dog, Lloyd, with her at all times in the treatment room. Most of her clients find his presence very soothing. This may not be ideal however, for those with allergies, or an aversion to dogs.
Education
2013-2018 – Current study at British Columbia School of Osteopathic Manual Practice
2013 – Prenatal Massage
2009 – West Coast College of Massage Therapy
*2011-2013 – massage therapist at Victoria Dragon Boat festival
*2011-2013 – massage therapist at the Victoria Marathon
Techniques & Treatments
Myofascial release
Deep tissue massage
Pre and post natal treatment
Trigger point release
Craniosacral therapy
Muscle energy technique
Joint mobilization
Swedish massage
Pricing
Initial appointments are 60 minutes: $120
Subsequent appointments are 60 minutes: $117