Irina Mackay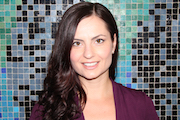 Irina's interest in human anatomy and physiology as well as her passion for helping others led to her pursuing a career in massage therapy. Since graduation Irina has gained experience treating a variety of conditions including postural and pregnancy related muscle tension, sports, motor vehicle and work injuries, as well as providing treatments for general stress management. She has had success treating tension headaches, carpal tunnel syndrome and working with clients with chronic muscle tension due to athletics or long hours of working at a desk.
In 2012 Irina travelled to Austria in order to complete her Manual Lymph Drainage and Complete Decongestive Therapy training at the Vodder School and has since had experience treating patients undergoing cancer treatments, cosmetic surgery patients as well as managing primary and secondary lymphedema.
Irina is able to adapt her techniques and pressure and she customizes her approach in order to help her clients achieve their individual massage therapy goals. She continues to attend a variety of continuing education courses in order to add to her skills and best serve her clients.
Irina is looking forward to working with you in the clinic and providing you with a massage therapy plan and home care
Education & Training
Vancouver College of Massage Therapy – Massage Therapy Diploma 
University of Waterloo – Bachelors of Arts
Pricing:
Techniques & Treatments
Deep tissue massage
Swedish massage
Trigger point release
Joint mobilizations
Sports massage
Therapeutic stretching
Myofascial release
Prenatal and postnatal massage
MLD and CDT (Manual Lymph Drainage and Complete Decongestive Therapy)
Kinesio taping for bruising and edema
Articles