Elli Klaus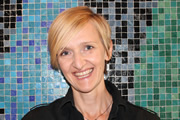 Originally from Germany, Elli graduated from the West Coast College in 2006 and has experience treating a wide range of conditions and pathologies. Elli started her career with a heavy focus on athletic treatment. For three years she was a member of the massage care team for the BC Lions and Vancouver White Caps. Her love for triathlon led her to move to the Okanagan and become involved with Ironman Canada, as well as various mid and short distance events where she treated professional and amateur athletes on an event and maintenance basis. Since returning to Vancouver, Elli continues to be passionate about athletic treatment but has broadened her spectrum of modalities and applications. Elli's extensive background in teaching Pilates has fine tuned her skill to recognize patient's postural and biomechanical faults and provide them with home care plans that empower the patient to achieve long term results.
A former avid horseback rider and hobby triathlete, Elli now spends much of her free time long distance running, doing yoga, hiking in the mountains with her dog and traveling the world.
Elli's passion for her career led her to teach at the West Coast College of Massage therapy for four years, where she was an instructor for Athletic and Spinal/Orthopedic Treatment, Clinical Assessment, as well as a supervisor for the college's MS Inreach program. She currently works as Student Clinic Supervisor at Langara College.
Education and Training
West Coast College of Massage Therapy: 2003 – 2006
Pricing
Initial appointments are 60 minutes: $120
Subsequent appointments are 60 minutes: $120