Bart Prinsen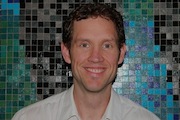 Having studied a number of approaches to health and healing, Bart's treatments are both art and science and are informed by a broad base of knowledge about the human body.
Earning a Bachelor of Science Degree in Biology and Physics has helped Bart establish a firm grounding in conventional science. Subsequent studies in disciplines of self-care and manual therapy – which promote the body's ability to self-regulate and heal – have broadened his perspective and strengthened his view that the body is a holistic, integrated system. Having a full time massage therapy practice for over 10-years has given Bart the time and experience to develop a skill set and an approach to treatment that is unique and effective for a wide range of people and health conditions.
Bart does not see health as a static state of being, but as the ability to efficiently return to transitory states of balance, and being able to adapt to stressors. From the point of view of the mechanics of tissues, healthy functioning of the body requires sufficient flexibility, mobility, elasticity and resilience of the muscles, connective tissue, joints, ligaments, bones, organs, nerve tissues and blood vessels. Restrictions in any tissue can cause mechanical irritation, inflammation, pain, and compromise the functioning of the respective tissues, organs and systems.
Restoring proper mechanical qualities to the tissues leads to healthy functioning and a body better able to maintain its own equilibrium. To achieve this goal in his practice, Bart uses a number of techniques, from massage techniques to manual therapy, depending on the needs of the patient.
Some examples of manual therapy techniques include Myofascial Release, Craniosacral Therapy and Visceral Manipulation and various kinds of joint mobilization. These are techniques that were developed by osteopaths and came out of the profession of osteopathy. Today, they are practiced by various health professionals, including osteopaths, massage therapists, physiotherapists, chiropractors and others. Several of these techniques are relatively light and subtle and can often work even deeper into the restrictions of the body because the body does not react and resist the input of the practitioner, but rather cooperates with what the practitioner offers. Deeper, longer-lasting effects can result.
In addition to looking at how restrictions can cause local symptoms of pain and discomfort, Bart approaches the body as an integrated system. A restriction in one part of the body often causes the body to compensate in another. Thus, pain and other symptoms can show up in secondary sites within the body. In his treatments, Bart uses various approaches to assess the root cause of the problem and treats the primary site. When the primary restrictions are treated, it is possible for the secondary symptoms to resolve or be addressed in a way that produces lasting results. This approach allows for a more complete resolution of patients' complaints.
If you have any questions about Bart's practice, feel free to email him at bartprinsenrmt@gmail.com.
Education & Training
Canadian College of Osteopathy: last year of the Traditional Osteopathy five-year program. Presently completed over 130 days of classroom training in addition to study outside of class. Included in this training is in-depth study and practice in various techniques such as myofascial release, craniosacral therapy, visceral manipulation and joint mobilization techniques.
2015 Barral Institute – Neuromeningeal Manipulation: An Integrative Approach to Trauma
2013 Barral Institute – Listening Techniques 1: An Integrative Approach to Evaluation
2012: Peter Wuhrl, Osteopath – Working With the Inner Body. A 3-day course in Visceral Osteopathy.
2012: Somatic Explorations – participated in 1-day visceral dissection
2010 to 2011: 18 days (6 modules of 3 days per module) of training in GDS Muscle Chains – a form of work developed by an Belgian osteopath named Godelieve Denys Struyf. This approach identifies 6 chains of muscles in the body and studies their functions and interrelationships in the body. The goal of this form of work is to have all the chains of muscles balanced so the body is flexible and so that all the chains can function properly, so one can express various "modes" of expression and being.
July 2010: Introduction to GDS muscle chains
Sept 2010: GDS Anterio-lateral chain
Dec 2010: GDS Postero-lateral chain
Feb 2010: GDS Antero-medial chain
April 2011: GDS Postero-medial chain
June 2011: GDS Postero-anterior/Antero-posterior chains
2004: John F Barnes Seminars – Myofascial Release 1
2004: John F Barnes Seminars – Myofascial Release 2
2004: John F Barnes Seminars – Myofascial Unwinding
2004: Kikkawa College, Toronto – Registered Massage Therapy
2002: Upledger Institute – Craniocsacral Therapy Level 1
2001: Institute of Thai Massage, Chiang Mai, Thailand – Thai Massage level 1
2001: Institute of Thai Massage, Chiang Mai, Thailand – Thai Massage level 2
1999: University of Waterloo – Bachelor of Science (Biology and Physics)
Experience
Currently in the final year of study at the Canadian College of Osteopathy
Participted in several intensive meditation retreats to gain deeper levels of awareness and relaxation
Practiced yoga since 1995 in classes, one-on-one study with certified Iyengar yoga teacher, and individual practice
Experience travelling and living in numerous places in Canada, the United States, South America, Europe, South-East Asia
Pricing
Initial appointments are 60 minutes: $120
Subsequent appointments are 60 minutes: $120
Techniques & Treatments
Osteopathic Techniques
Myofascial Release & Unwinding
Craniosacral therapy
Visceral manipulation
TMJ
Joint Mobilization
Muscle Energy Technique
Sciatica
Soft Tissue Mobilization
Deep Tissue Massage
Swedish Massage