Angela Vanderwal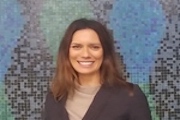 Angela's lifelong passion for health and wellness has led her to a diverse education in physical, emotional, and spiritual wellness and healing. Angela received her diploma of massage therapy in 2011, and Reiki Healing certification in 2012. She subsequently received training at Naam Yoga Therapies in Harmonium healing in 2015, in addition to numerous classes and workshops in yoga, hypnosis, meditation and nutrition.
She has since practiced in Toronto, Hawaii, and Los Angeles and has recently returned home to Vancouver.
A natural healer and empath, Angela combines her vast knowledge of physiology and biomechanics with her intuitive perception applying a wide variety of traditional Swedish massage techniques, tissue realignment therapies, and holistic healing modalities.
With 20 years experience practicing yoga and meditation Angela is able to apply her integrated wisdom and has had numerous rewarding experiences restoring range of motion, functionality, and quality of life to her clients.
Some focuses of Angela's practice have been:
Neck and shoulder re-calibration
Spine and pelvis decompression and sciatica treatment
Soft tissue support for individuals undergoing gender reassignment
Whiplash treatment
Pre and post natal treatment
Life change stress relief
Angela believes that the therapeutic process involves the whole person and whether it's a stiff neck or a monumental journey back to full health every step is valuable and worth celebrating.
Expect a specific, targeted treatment plan; combined with simple regular self-care designed to allow and sustain optimal healing.
Education & Traning
Harmonium III training 2015
Reiki Master 2011
Reiki Level 2 2011
Reiki Level 1 2011
Diploma massage therapy 2010
Certification Hypnotherapist 2001
Techniques & Treatments
Lomi Lomi Massage
Swedish Massage
Pricing
Initial appointments are 55 minutes: $120
Subsequent appointments are 55 minutes: $120